Below are emails that have been sent to us from our past puppy clients.
As a family we personally spend a lot of time socializing and cuddling with our poodle puppies until it's time for them to go home with their new families.. we love the updates about how their doing in their new homes and how our moyen poodle puppies have changed their lives. Means the world to us!
MOLLY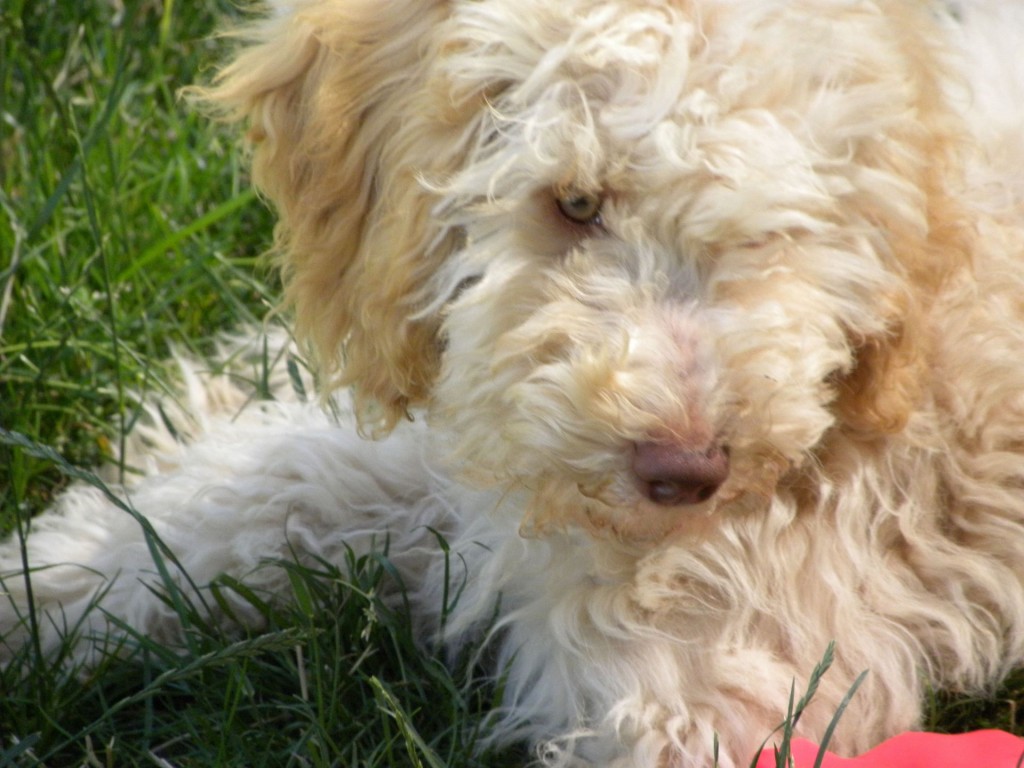 Hello, Molly is such a sweet and loving little girl. She has a playful spirit and is always the life of the party. She LOVES the water and is the first one in our baby pool. She can be super playful with the kids or just kick back and lay with me and watch a movie. She is the perfect size and a wonderful companion.
She was recently weighed and measured and she is 18 inches tall and 18 pounds and I think she is done growing. She has passed her heart, hips and eye testing. I could not ask for a better poodle.
Moyen poodles are so hard to find or let me rephrase that true and high quality moyens are hard to find. Thank you for producing such an amazing, smart and healthy little girl.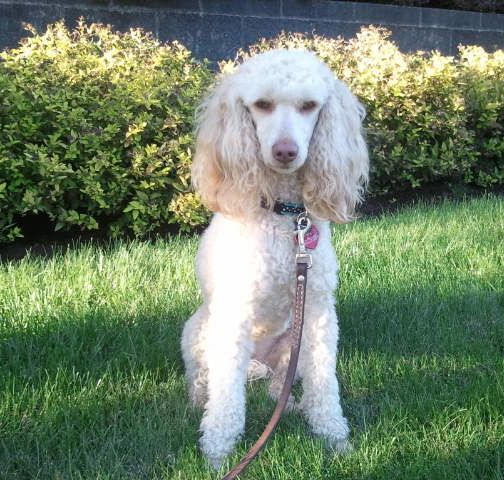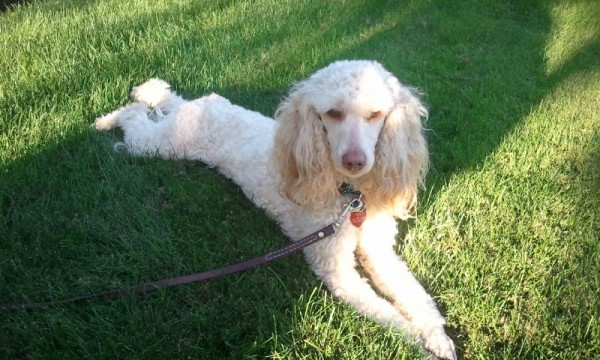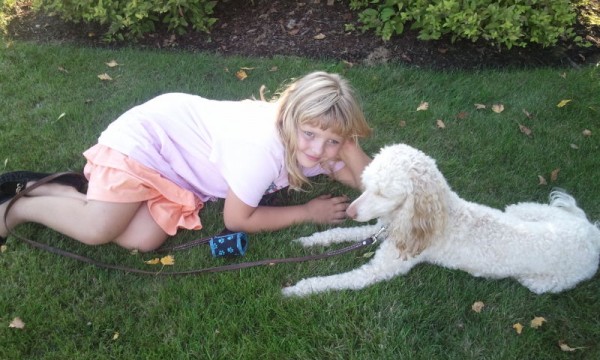 Molly has passed all her genetic testing with flying colors including Hips, Elbows and heart and eyes!
~ Barbara – Visit Molly at Dreamydoodles.com
---
OLIVER

Hi, Oliver is SOOOOOOOOOOOO good and equally as sweet. I love him with all my heart and soul. He will be a year old March 13th- we'll have to have a party! Let me know when the puppies arrive. If they are not all spoken for; I may some folks interested in seeing them. Thanks for such a wonderful dog and companion.
Kind Regards, Paula
---
JONAH

Yay! We are so happy for you! Jonah is amazing, smart and loving beyond all our poodles during this puppy stage. He makes us laugh constantly and is always ready for a game of whatever, just as long as it is a game. His personality is blooming and we can't wait to see how he continues to learn and grow with our family.
Thank you! Finnell
---
DEXTER

Hi, I was thinking of you the other day because Dexter is WONDERFUL! He is great with our three young kids and his size is exactly as you described. He is about 23 pounds and still has some growing to do. He is very calm around people and other dogs. I took him to obedience class yesterday and then to a meeting and during both he just laid at my feet quietly and patiently. To look at him, you would not believe he is still a puppy because he often acts much more mature than his age (6 months). He has learned everything we have taught him superfast. I cannot say enough good things about this dog! His "big sis" Roxy loves him, too. You can tell he stayed with the litter an appropriate amount of time by the way he acts with her. I may wait to send the picture tomorrow after he is groomed, but he is the perfect dog!!
Thank you, Christy
---
LILLY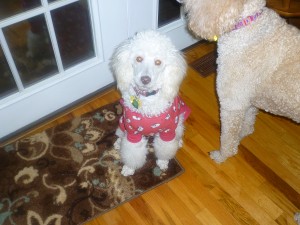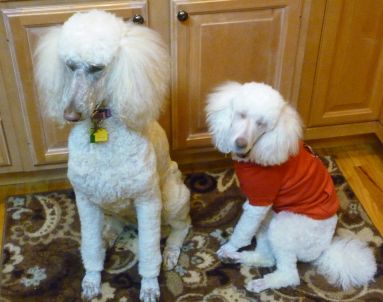 We named our little girl, "Lilly". She is precious little one. She is so cute, and so sweet. She has so much energy. She can definitely keep up with our Standard Poodle. They run and run and have the best time. She has really developed lots of muscles and a great personalaity. Our vet says she is amazing!! She is so sweet with everyone and great with small children. I would definitely have another Moyen Poodle. I am going to give her a hair cut today, so will send another picture today or tomorrow, but sending one today that was taken a few months back. She is in her PJ's. She definitely has a nice personality and a real love.
Thank you, Linda
---
ZOE

We could not be happier with our Zoe! She looks just like her dad Romeo! You do the very best breeding! To think that she will be 2 years old June 29th is hard for us to believe! Loving, sweet and beautiful! Thank you for such careful breeding!
Our grand-daughter got a little girl from you last summer after seeing Zoe! Now she has her sweet Babs and is thrilled!
Thank you again! Ken and Paula
---
CHARLIE

Hey there! I just wanted to write and let you know how Charlie is doing. He is one year old today! When we talked to you on the phone about adopting Charlie you said that you could refer us to others who could talk all day long about their dogs.
Well, that is us now because he is an amazing fellow! When we were at your house and sitting on your sofa he climbed, or maybe marched is a better word, up my husbands arms and curled up behind my husbands neck. All the way home to Wake Forest, NC (about 8 hours) he insisted on climbing up my shoulders and sitting on the back of my neck.
I tried to let him stay there as long as I could but I had to put both arms up to hold him in case he fell so couldn't let him stay on my neck the whole ride home. When we got to the house and till this day, he still insists on sitting on my neck. He has figured out that he is too big to sit on my neck so he now sits behind me on the couch.
Every once in awhile he kinda slides down onto my neck when he thinks I couldn't possibly notice. We have a couch pretty much like the one that you had that doesn't have a wall behind it. I am thinking maybe your kids let him curl up on their neck when he was with ya'll. He seems to like my hair so it may be your daughter is the culprit! We took him to a training class where he was the absolute star!
The teacher said he likes to sit on my neck because it is his safe place. His main goal in life is to play and hunt in the woods in our fenced backyard for more toys! Other dogs go out to sniff and hunt animals but Charlie goes out to hunt toys. He has found lots of stuff out there and even came in one day with a stuffed fake snake!
He has a million toys already and when we buy him something new we put it outside so he can find it. The vet said it is so good to see a dog so healthy. Thank you so much for letting us adopt him. If I ever get a decent camera I will send you pics as he is a beautiful fellow.
Bye for now. P.S. – I love, love, love your web site!
Thank you, Jan and David

CONTACT US TODAY!
Please Text or Call About Puppies
Texting is the fastest way to reach me:
940-395-5441
If you have questions you can contact me at
[email protected] anytime!
Located in Dallas/Fortworth Texas area!